Boxing is the only sport you can get your brain shook, your money took and your name in the undertaker book.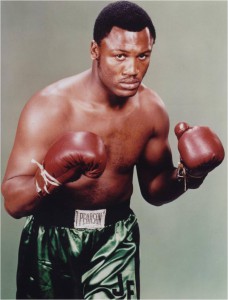 Né à Beaufort, Caroline du Sud, le 12 janvier 1944 et décédé des suites d'un cancer du foie le 7 novembre 2011, Joe Frazier (32 victoires dont 27 KOs, 4 défaites, 1 nul) est un ancien champion du monde des lourds.
Champion olympique aux jeux de Tokyo en 1964, il devient champion du monde professionnel en 1970 en mettant Jimmy Ellis KO au 5e round. Petit et léger pour la catégorie reine, Frazier coupe le ring, asphyxie ses rivaux et termine généralement le travail grâce à un crochet du gauche atomique.
Le 8 mars 1971, au Madison Square Garden de New York, il est le premier homme à battre Mohamed Ali. Ce dernier prend sa revanche en 1973 et remporte la belle à Manille en 1975 au bout d'un combat d'une violence inouïe.
Quand Smokin' Joe prend sa retraite en 1976, Ali et Foreman sont les deux seuls boxeurs à l'avoir battu.
Après avoir raccroché les gants, Frazier multiplie les activités : showman à Las Vegas, il pose sa voix sur un enregistrement du groupe The Knockouts. Il ouvre le Joe Frazier Gym à Philadelphie et entraîne son fils Marvis, boxeur professionnel.
La video ////