My experience and pressure will be the difference. I have been in a lot of big fights.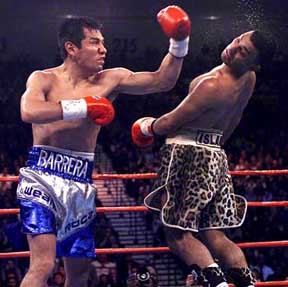 Marco Antonio Barrera est un boxeur mexicain né le 17 janvier 1974 à Mexico.
Fort de 66 victoires dont 43 par KO pour 7 défaites, Barrera a gagné des titres de champion du monde dans 3 catégories de poids différentes (super coqs, plumes et super plumes).
Stéréotype du champion mexicain, mâchoire en acier, volonté à toute épreuve et détermination à toujours avancer sur son adversaire pour le détruire, il explose en pleine lumière le 7 avril 2001 lorsqu'il administre une leçon de boxe au facétieux Prince Naseem Hamed pour s'emparer du titre IBF vacant de champion du monde des plumes.
A retenir également : la trilogie épique contre son compatriote Erik El Terrible Morales (2 victoires, 1 défaite). Barrera s'est aussi frotté, avec moins de succès, à Manny Pacquiao (2 défaites) et Juan Manuel Marquez(1 défaite).
La video ////