I am the greatest, I said that even before I knew I was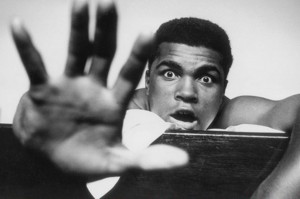 Mohamed Ali – Cassius Clay avant sa conversion à l'Islam – est un ancien boxeur américain né le 17 janvier 1942 à Louisville, Kentucky.
Doté d'un palmarès de 56 victoires dont 37 KOs, 5 défaites, il a remporté plusieurs fois le championnat du monde des lourds, révolutionné la boxe et est considéré comme l'un des meilleurs boxeurs de tous les temps.
Cassius Clay est d'abord un génie précoce qui remporte la médaille d'or olympique à Rome en 1960. Passé pro, sous la tutelle d'Angelo Dundee, il ne lui faut que 20 combats avant de devenir le plus jeune champion du monde poids lourds de l'histoire en déboulonnant le redoutable Sonny Liston.
Devenu Mohamed Ali, il est séché au firmament de sa carrière par la guerre du Vietnam, interdit de boxer pour avoir refusé de servir.
De retour sur les rings en 1970, il est défait pour la première fois par Joe Frazier. Il prendra sa revanche en 1974 avant de remporter la belle l'année suivante lors du mythique Thrilla in Manila.
Entre-temps, Ali réalise l'une des plus belles performances de tous les temps en battant, à la surprise générale, l'invaincu Georges Foreman, le 30 octobre 1974 à Kinshasa. Sept ans après avoir été déchu de ses titres, Ali est de nouveau champion du monde.
Sa fin de carrière sera plus amère. Usé, Ali fait plusieurs combats de trop dont il gardera les séquelles. Dès 1982, alors qu'il combat encore, il est atteint de la maladie de Parkinson.
Son sens du spectacle sur le ring comme en dehors ainsi que son engagement pour les droits des noirs en ont fait l'une des figures incontournables de son siècle.
La video ////