My height is an advantage, if I want to use it. Short guys have short hands and short feet and they come up quick. Taller guys, they use their advantage. Everyone tries to use their advantages.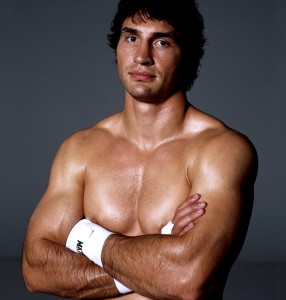 Wladimir « Dr Steelhammer » Klitschko est un boxeur ukrainien né le 25 mars 1976 au Kazakhstan. C'est le frère cadet de Vitali Klitschko, ancien champion du monde des lourds et homme politique ukrainien.
Avec 61 victoires dont 51 KO pour 3 défaites, il est invaincu depuis 2004 et l'arrivée dans son coin d'Emmanuel Steward - décédé depuis. Ce dernier a appris à l'ukrainien d'1m99 à exploiter au maximum son allonge ainsi que sa puissance physique supérieure. Ses 19 derniers rivaux, dont le français Jean-Marc Mormeck, tous battus sèchement, peuvent en témoigner.
Il est, depuis sa victoire sur David Haye, le champion IBF, WBO, WBA et IBO des poids lourds.
La video ////